A Perfectly Balanced Ayurvedic Shampoo for Hair Fall
Rajah Ayurveda Rootz shampoo A perfectly balanced shampoo that cleanses the hair as well as scalp without removing the natural oils and making the hair dry. Infused with the goodness of organic Hibiscus leaves, Amla, Henna, Brahmi Bacopa monnierii, Neem leaves, Shikakai, Soap nut. It nurtures your hair and leaves them well cleansed and
manageable. Suitable for all hair types, it works best in all weather conditions.
Listed are the Main Benefits you can get by Regular use of Rajah Ayurveda Rootz shampoo
• Prevents Dandruff
• Soothes The Scalp
• Removes Dirt & Pollution.
• Moisturizes The Hair
• Best For Dry & Damaged Hair
• ANTI HAIR FALL & DANDRUFF CONTROL
Rajah Ayurveda Rootz Shampoo repair hair follicles & roots and maintains Ph level which helps to treat dandruff and thereby reduces itchiness.
• HEALTHY & SILKY HAIR
Hibiscus increase blood circulation, improve hair texture and act as an Anti-hair fall natural hair cleanser (complete hair treatment, Clinically proven, organic certified, scientifically tested)
• HAIR GROWTH
This Ayurvedic shampoo for hair fall is handcrafted with the Goodness of Hibiscus leaves, Amla, Henna, Brahmi Bacopa monnierii, Neem leaves, Shirakakai, Soap nut which supports the production of collagen which reduces greasiness, stimulates hair growth and makes your hair soft, shiny and smoother.
• STRONG HAIR ROOTS
Hair fall is one of our problems, which has become pretty common these days due to a lot of reasons. Thankfully, there is Rajah Ayurveda Rootz Shampoo which is extremely helpful in getting a stronger grip on your hair roots and helps prevent hair fall. It directly works on your scalp and nourishes it deeply, so your hair breakage starts to reduce. It fosters hair follicles and helps your hair remain healthy, strong and lustrous with a youthful glow.
• HAIR FALL CONTROL
Our nourishing formula of Rajah Ayurveda Rootz shampoo strengthens thinning and weak hair resulting in fuller and healthier hair. Hair becomes smoother and shinier with fewer frizzes and it controls hair fall.
• ALL TYPES OF HAIR
Rajah Ayurveda Rootz Shampoo  is effective for all types of hair i.e. Curly, Straight. Damaged, coarse. Its natural ingredients with anti bacterial and antifungal properties deal with problems related to all types of hair.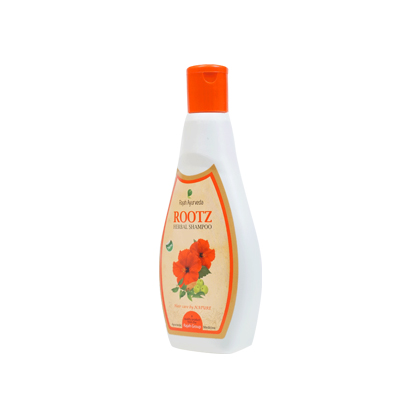 Why Rajah Ayurveda Rootz ?
• 100% Natural
• Totally Safe and naturally derived protein
• Keeps your scalp clean and fresh
• Reduces Excess Hair Fall and nourishes scalp
• Gives Shiny and Healthy Hair
• Strengthens and smoothens the Hair Cuticle
•Ayurvedic shampoo for hair fall
• Vegan
• Cruelty-free
• Plant-based
• No Petrochemicals or Parabens
• No Phthalates or Sulphates
• No Synthetic Colors or Artificial Colors