Why Ayurvedic Lip Balm is Good for You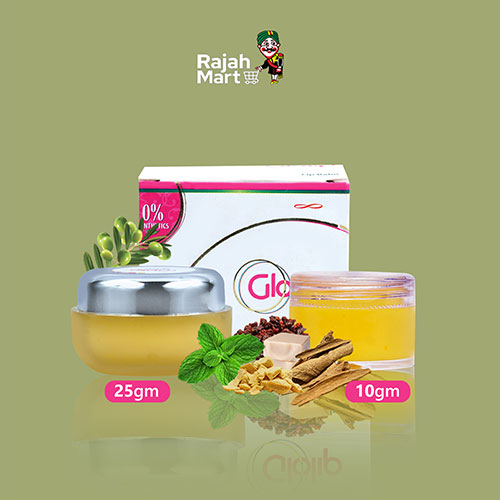 • 100% Natural Oils used

• No Harsh Chemicals

• No Pesticides

• No Side Effects

• No Parabeans

• Suitable for all skin types

• Can apply in all weather conditions




• AYURVEDIC PRODUCT, CHEMICAL-FREE:

Rajah Ayurveda Glolip Lip Balm is a chemical-free ayurvedic lip balm enriched with the goodness and purity of 100% pure Almond Oil and Coconut Oil. It is a Paraben-free lip balm made with only non-toxic ayurvedic and natural ingredients. Which makes it a gentle and safe product to use regularly without any side effects.

• ENRICHED WITH NATURAL INGREDIENTS:

This Ayurvedic lip balm is formulated with only naturally extracted Bee Wax, mainly added as a base to give extra moisture to your lips and which help to heal dry and chapped lips while adding several beneficial nutrients suitable for all skin types and weather conditions and on the other hand it also got the purity of Coconut Oil and Almond oil. This rich creamy formulation also helps to easily glid the lip balm on the lips of all types.

• BOON FOR CHAPPED LIPS:

Due to its rich formulation of natural Bee Wax, Almond Oil and Coconut Oil, this natural lip balm helps to relieve soring chapped and dry lips while ensuring complete nourishment of the lips by boosting them with beneficial nutrients and vitamins that help repair damaged skin of the lips for all skin types.

• BOOSTS MOISTURE:

Rajah Ayurveda Glolip Lip Balm helps to retain lip's moisture and helps rejuvenate lost moisture for all kinds of skin types by providing buttery hydration due to the rich formulation of Bee Wax, Almond oil and Coconut Oil. It not only boosts moisture but also helps to seal the hydration and prevent the lips from further dryness. Furthermore, it also helps to protect and prevent the lips of all types from several environmental damages

• UNISEXUAL PRODUCT:

This nourishing ayurvedic lip care balm is exclusively formulated with no chemical-based formula thus it is suitable for men and women. Its highly moisturizing formula helps to moisten men's dry lips without giving any tint. Since this is a pure ayurvedic lip balm and doesn't have toxic ingredients which makes it beneficial for kids as well.


Treat your lips with ultra-nourishing lip care formula that combines a rich blend of herbs and oils. Beeswax forms a nutrient-rich base that helps seal in moisture, pure herbal Oils repair dryness. A luxurious blend of emollients like Coconut Oil, Almond Oil deeply hydrate your lips and protect your lips from further damage.


Benefits of Glolip Balm

The formula for smooth, red, glossy lips
Relieve chapped/dry lips, flaky lips, cold sores while
Prevents drying and cracking of the lips
Regular use of the cream guarantees smooth, red, glossy lips
Nourishes tones and softens the lips